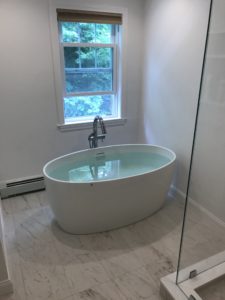 Witch City Plumbing proudly offers a variety of residential plumbing services to those in the Salem and North Shore MA areas. With only licensed journeyman plumbers on staff, we are confident we can resolve any residential plumbing request, large or small. For many years, Witch City Plumbing has installed and serviced the plumbing systems of a wide variety of residences, ranging from single family homes to mansions. The plumbers we employ are highly experienced in their plumbing expertise and they continue to keep up with industry best practices as the field of plumbing evolves. For a superior residential plumbing contractor, give Witch City Plumbing a call!
Residential Plumbing Services We Offer:
We offer a wide range of residential plumbing services including:
Camera Pipe Inspection:
This is one of our most frequently used services. It is both used to check for problems and to make sure problems are resolved.
Plumbing System Inspection:
Your plumbing system is large and complicated. Overtime it requires maintenance and our plumbing system inspection can identify potential issues or inform whether or not repairs are needed.
Plumbing Fixture Replacement and Remodeling:
Sometimes plumbing fixtures need to be replaced and the licensed journeyman plumbers on staff have the experience to do it quickly and efficiently.
Plumbing Repairs:
Whatever residential plumbing repair needs you may have, Witch City Plumbing has got you covered.
Drain Cleaning:
We clean all drains including kitchen, bathroom, garage and outdoor drains.
New Construction Plumbing Services:
Witch City Plumbing performs new construction plumbing services often and we are well versed in working with other contractors to get the job done.
Water Heater Maintenance and Repair:
Reliable water temperature is crucial for your home. If you encounter a water heater issue, we can resolve it for you.
Sewer Line Replacement and Repair:
Whether you need a sewer line inspection, repair or replacement, we offer reasonable pricing without compromising quality of work.
Plumbing Re-Piping:
This tends to be one of the more extensive plumbing jobs, however our professional plumbers are detailed and thorough, ensuring your plumbing system will get the upgrade it needs.
Accessory Dwelling Unit Plumbing Services:
The planning phase of an ADU building project should always include an experienced accessory dwelling unit plumbing contractor to ensure that there are no surprises when a family member or renter takes up residence.